Kingdom Tools, Inc. was founded in 2007 to design, manufacture and market a line of unique tools for a variety of construction trades.
Our tools are all made in the USA using premium components. Our attention to detail rivals industry standards and our crafstmanship far exceeds that of the big name manufacturers in the marketplace. Our tools are constantly being customized to meet individual customer needs and make your job easier.
Currently, Kingdom Tools offers construction professionals several tools including the Door Buck Spreader*, Elevator Dominator Drywall Cart, and the Kwik Drill. With over 20 years experience, our metal fabrication services have been utilized by a variety of industry professionals to design and build custom solutions that have included mixing augers for industrial food processors to intricate drilling devices for casino dice.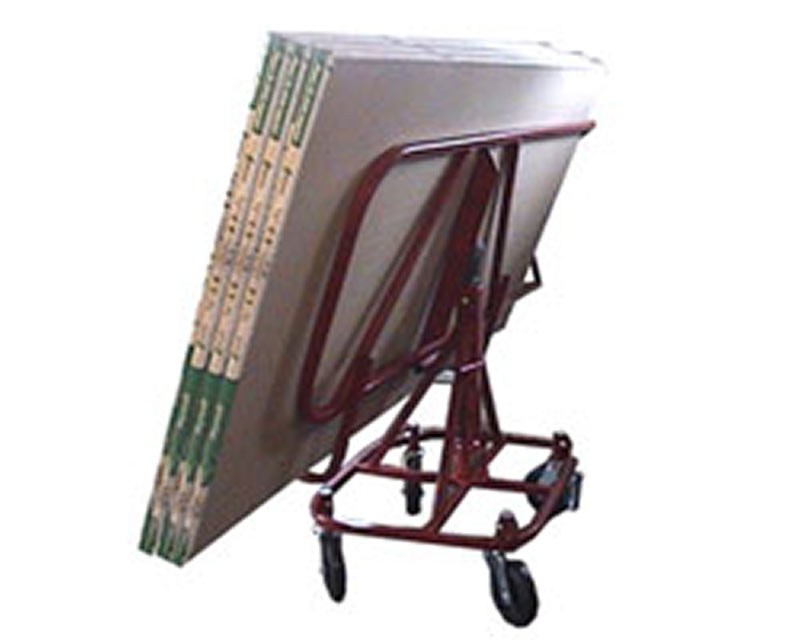 Elevator Dominator Drywall Cart
Elevator Dominator
Being the 3rd of 4 generations in the building trades, my father had worked primarily in the drywall and metal studs industry throughout his 35 year career. In 1990, my father was working on a job in downtown Buffalo, NY, that required him to load some 1,500 sheets of drywall up a tight fitting elevator. Knowing what was required of him from doing this same agonizing job in the past, he came up with the idea of swiveling the sheets in with a cart. That weekend he spent countless hours cutting, welding, and grinding steel to build his first cart. Monday morning, he shows up on the job site with his self made contraption. Co-workers on the same job looked at this contraption with confusion, and doubt. Once he showed them how it worked, they were astonished at how much time, and work it saved them. Instead of going in and out of the elevator 20 times, (10 times in, 10 times out), they only needed to go 2 times (1 time in, 1 time out). Not only was this faster, but men were a lot less prone to injury by using the swinging motion of the cart, instead of dragging the sheets into the elevator one at a time by themselves.
As of 2007, I have created a new swiveling cart utilizing the same concepts of the original design, but making much needed improvements. Some of these improvements would include, a hydraulic lifting mechanism to lower the center of gravity on the cart while wheeling it towards, and away from an elevator. This creates a safer cart by making it more stable, and less likely to tip over. Another improvement was to ad the Colson Performa line of caster wheels. These wheels offer the advantages of both hard and soft wheels. They roll easy like a hard wheel, but protects floors and resists impacts with a cushion ride like a quiet soft wheel . The non-marking thermoplastic elastomer tread rejects floor debris such as drywall screws or metal shavings.
Our company, Kingdom Tools was named as a testament to the gift of eternal life through knowing Jesus Christ our savior.
"But seek first the kingdom of God and his righteousness, and all these things will be added to you."

Matthew 6:33 ESV